When you sign-up for CNA classes, you're taking the first step toward a rewarding career as one of the healthcare industry's most-needed caregivers – the Certified Nursing Assistant!
The United States Bureau of Labor Statistics projects that demand for new CNAs will increase by more than 20% through the year 2020, making it one of the fastest-growing positions in the entire U.S. labor. Couple this with the fact that you can complete most training programs in as little as four-to-six weeks, and the time has never been better to pursue your certification.
CNA Training – A Brief Overview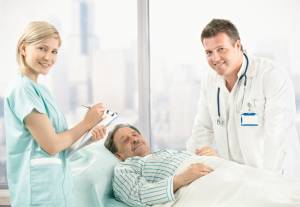 The goal of CNA classes is to provide students with the knowledge and skills required to pass the National Nurse Aide Assessment Program (NNAAP) or Medical Aide Certification Exam (MACE) and become eligible for hire. Certified Nursing Assistant training generally lasts between four weeks and three months, and is made-up of classroom study and hands-on clinical training.
For a more detailed look at what to expect, check out our exclusive look inside CNA training.
Earning Your Certification
After completing an accredited training program, you'll be required to pass either your state's certification exam or one of the aforementioned national tests (the NNAAP or MACE) in order to become a Certified Nursing Assistant. In most states, individuals who have completed accredited courses have 24 months to successfully challenge for certification.
To find out more about earning and maintaining your certification, you'll want to review our CNA certification guide for 2013-14.
CNA Classes – Questions to Ask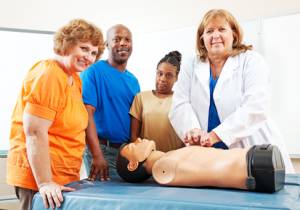 If you're just starting your search for CNA classes, you've probably already discovered that there are plenty to choose from in most parts of the country. Nonetheless, choosing a program that fits your specific needs can still be a challenge.
With that in mind, we've provided the following quick checklist of things to look for.
Are the Courses Accredited?
The very first thing you'll want to find out when considering any training program is its accreditation status with the Commission on Collegiate Nursing Education, or your local state nursing board. Making sure that a program is properly-accredited is crucial, as only students who graduate from accredited programs are immediately eligible to challenge for certification in most states.
What are the Prerequisites?
With most programs, the prerequisites for Certified Nursing Assistant courses are a high school diploma (or GED), proof of negative test results for tuberculosis, and the ability to pass a criminal background check. In some states, there is also a minimum age requirement (18, in most cases), but you'll need to verify this with your state board or nursing.
Are Online Classes Available?
Because so many students juggle family and job responsibilities with their training, many programs now offer online CNA classes. If you are a single parent, must continue working while going to school, or would just like to have the flexibility of attending class whenever, and from wherever, you want, then you'll want to find a program that offers distance learning options.
Is Financial Aid Available?
One last thing you'll want to find out is whether or not the program offers financial aid to help students pay for the cost of training. Many schools offer student loans and even grants and scholarships to qualified individuals, so be sure to ask about this when talking with representatives from the programs you're considering.
Find CNA Classes Near You Now!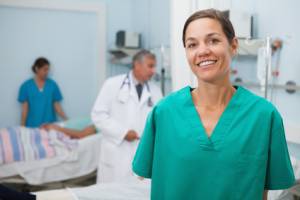 If you're ready to start requesting information from CNA classes and training programs in your area, you can start by using the search form on this page. If you'd like to learn more about becoming a Certified Nursing Assistant first, feel free to visit our list of frequently-asked questions where you can find out what CNAs do, where to look for jobs, and more!